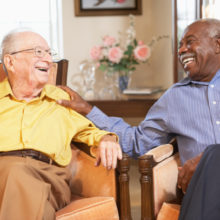 Willowbrook Nursing Center of Nacogdoches, TX offers assisted living in a warm, comfortable home-like setting for our residents and can accommodate residents in a Medicare/Medicaid licensed facility that provides professional, personalized skilled and long term care.
Willowbrook Nursing Center provides services ranging from custodial to intermediate to skilled care. All services are coordinated by our Director of Nurses, an RN, and our Medical Director or with the resident's personal physician. Licensed nurses are on duty 24 hours a day, 7 days a week, thereby assuring each resident and family that the highest quality assisted living care is maintained at all times. Learn more about our services.
Directions to Willowbrook Nursing Center
Willowbrook Nursing Center is conveniently located off of NE Stalling Dr (224) and North St (59) in Nacogdoches, Texas. Schedule a tour and come see our premier assisted living facility.